While also inheriting the functions of our previous products, this series responds to the new needs of the IT age with functions such as remote control, allowing total 24 hour temperature control of your business (from shop front through to backyard) even when away from your office.

The inside temperature is closely controlled by a sensor activated controller. A high performance air curtain maintains the showcase interior at a fixed temperature.

The heat exchanger uses a powerful corrugated fin. Powerful, high efficiency refrigeration allows dynamic product displays.

For safety, there is a new model high performance electronic ballast device (conforming to class C harmonic suppression standards) behind the shelves and in the lighting section there is an electric leakage breaker. Both of these are provided as standard. Our lighting section has energy saving capabilities and is of top class within the industry.

Our Flat Showcase (freezer type) and Island Showcase models use DC electric fans in their fan motors. These give improved energy efficiency and ensure stable performance.

The temperature indicator section clearly shows the operating conditions using a digital display. Easy to understand terminology has been used and operating the controls is even easier than before. Furthermore, the control section is located where it is not visible to customers.

The overhead canopy section has a new rounded design. This attracts the customer's attention and allows the easy production of eye catching sales displays.
Furthermore, the bumper style handrail has been changed from its previous stainless steel to a new material that is more effective for sales displays. The corner section now has a rounded shape that feels pleasant to the touch.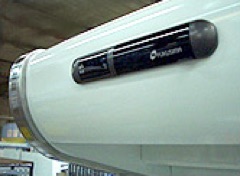 Upper canopy
multi-level case with rounded design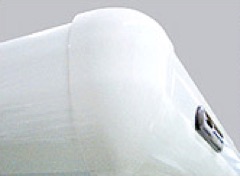 Upper canopy
faces have rounded corner upper canopies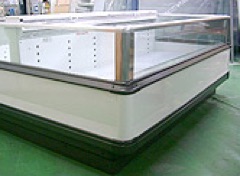 Bumper style handrail
changed from stainless steel to a new good to the touch material
Rich Variation
We have multilayer, low level multilayer, flat and island types for use with ultra fresh products, fresh meat and fish products, vegetables and fruits, processed dairy, daily and delicatessen products, chilled food products, frozen food products and ice cream. Each style includes a choice between separate and integrated freezers.
Recommended for use in
Supermarkets, department stores, convenience stores, discount stores, drug stores, liquor stores, delicatessens, bakeries, restaurants, cafes, hotels, hospitals etc.
Showcase freezers and refrigerators
used in stores